UPPCL Junior Engineer Recruitment 2020 Exam Answer Key Uttar Pradesh : upenergy.in
Organisation : Uttar Pradesh Power Corporation Limited (UPPCL)
Exam Name : Junior Engineer JE Recruitment 2020
Announcement : Answer Key
Exam Date : March 2021
Website : https://www.upenergy.in/uppcl
Want to comment on this post?

Go to bottom of this page.
UPPCL Junior Engineer Answer Key
Uttar Pradesh Power Corporation Limited (UPPCL) has released the Answer Key for Junior Engineer JE Recruitment 2020 exam
Related / Similar Answer Key : Kerala Judicial Service Preliminary Exam Final Answer Key 2020

How To Download Answer Key?
Just follow the simple steps mentioned below to download the Answer Key for Junior Engineer JE Recruitment 2020 exam
Step-1 : Go to the link https://cdn.digialm.com//EForms/configuredHtml/1258/68895/login.html
Step-2 : Enter your User Id
Step-3 : Enter your Password
Step-4 : Click on "Login" button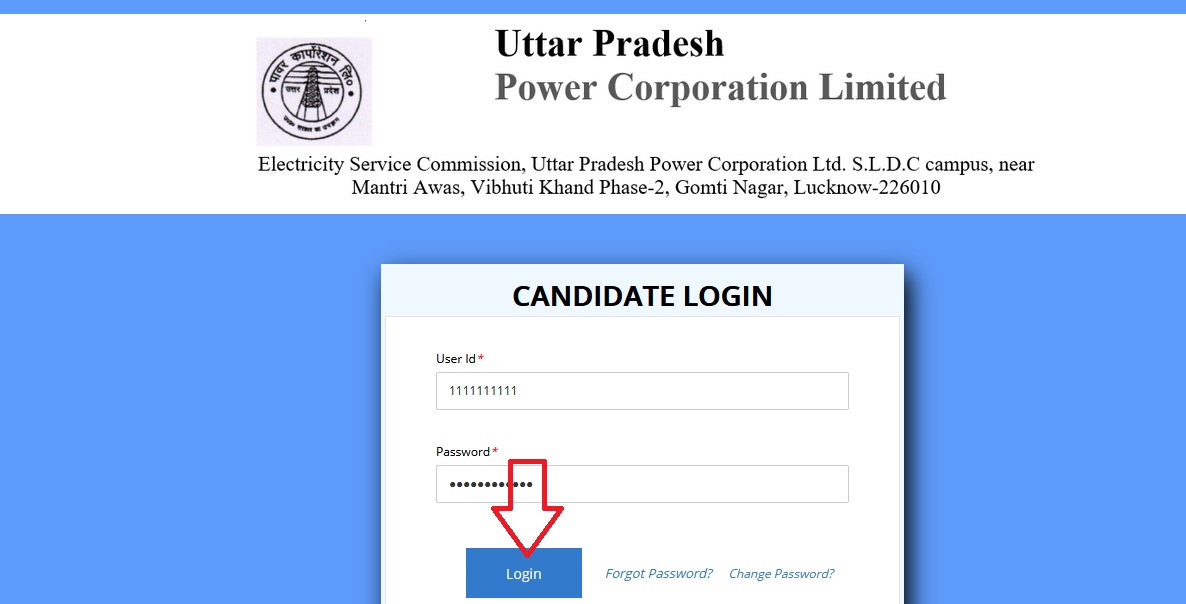 Instructions
Absentee Candidate cannot view Questions and Answers and can not submit Objections
1.Candidates are advised to submit Objections in the Question Paper and/or Answer Keys through this link only. Objections through any other mode/means/channel shall not be entertained by UPPCL
2. The candidates can submit Objection till3rd day (total of 3 days) of start of this Link. The link for submission of Objection shall not be available there after
3. Click on "Click here to fill objection" button in the tab "Objections" to raise your objections.
About UPPCL:
UPPCL will be professionally managed utility supplying reliable and cost efficient electricity to every citizen of the state through highly motivated employees and state of art technologies, providing an economic return to our owners and maintaining leadership in the country.
We shall achieve this being a dynamic, forward looking, reliable, safe and trustworthy organization, sensitive to our customers interests, profitable and sustainable in the long run, providing uninterrupted supply of quality power, with transparency and integrity in operation :
High productivity reflected in a fair, equitable and cost based tariff across consumer categories, accurate and timely billing on a rational, comprehensible billing basis reflecting actual consumption, and convenient system for payment of dues. Simple and well-advertised procedures, guaranteed connection of requested load within reasonable time, prompt breakdown attendance, and efficient complaint handling.
Timely actions based on anticipation of the future & perspective planning, and clear communication on customer issues.
A secure and well managed asset, corporate governance in line with Kumar Mangalam Birla Committee recommendations, a business growing organically and through diversification, and satisfied stakeholders.
Sustained growth and profitability, sound economic appraisal of projects to be undertaken, security of loan and timely servicing of debts, and timely publication of audited financial statements, including sound accounting & financial practice in accordance with law.
Implementation of reform legislation and of all government policies and directives as far as is practical, applying public funding and subsidies to the intended category of consumers. Compliance with the rule of law and electrical safety rules. The satisfaction of stakeholders.
Reliable and secure system operations in accordance with grid code, 0.2 class metering, and timely readings, an Integrated Information system to provide fast and accurate interface data, timely settlement observing proper commercial agreements between entities, and adherence to system operating procedures in terms of merit order dispatch, security, etc.