CFTI Chennai MSME GST Practitioner Training 2021 : cftichennai.in
Organisation : Central Footwear Training Institute, MSME Technology Development Centre, Chennai
Training Name : GST Practitioner Training 2021
Date : 17th, 18th, 24th & 25th April 2021
Time : 9.30 am To 1.30 pm
Training Fee : Rs. 4,720/-
Website : https://cftichennai.in/index.php
Want to comment on this post?

Go to bottom of this page.
MSME GST Practitioner Training
MSME (Govt of India) is conducting from 17th, 18th, 24th & 25th April 2021 Online training for 4 days from 9.30am to 1.30pm on "Become GST Practitioner" with Govt. of India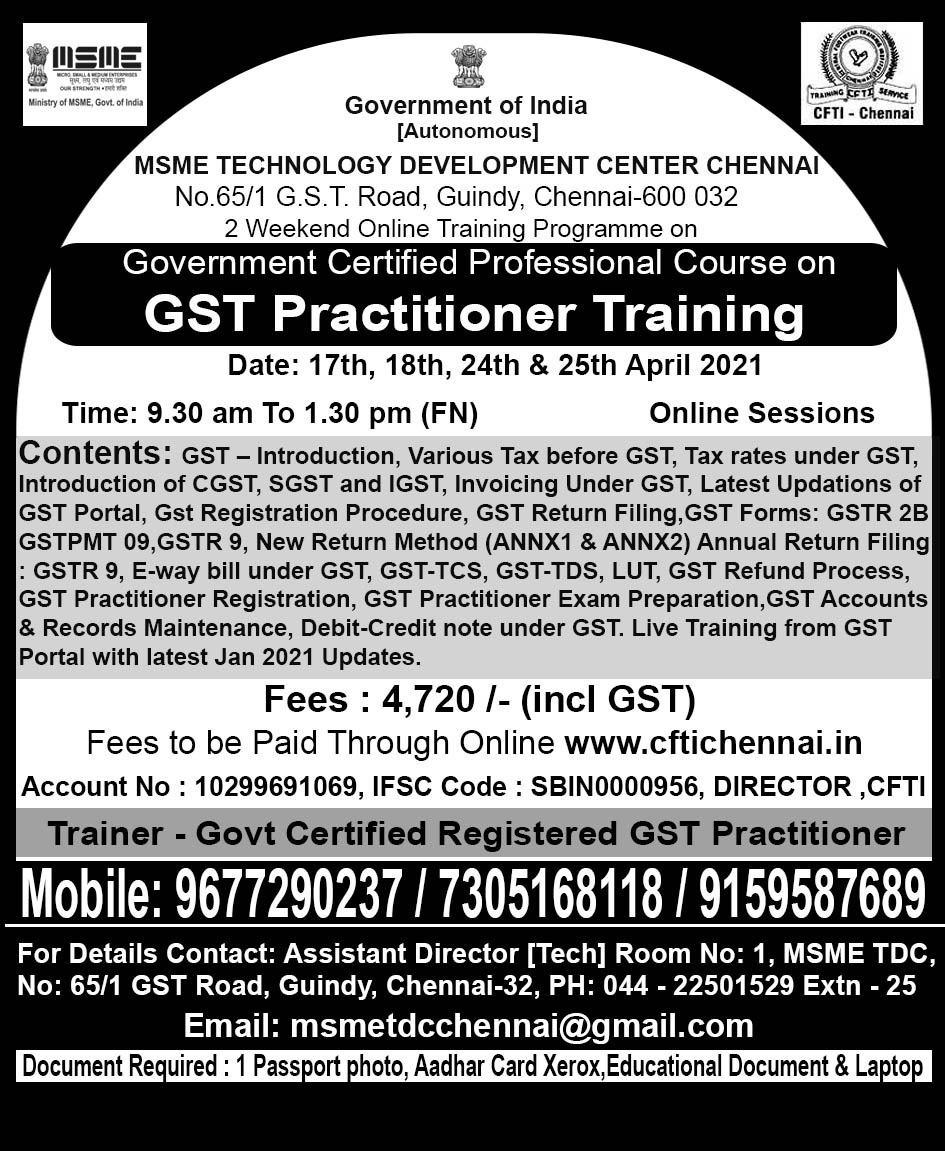 Certification. Become a GST Practitioner and improve your skills and earn more and also facilitate many others in the industry with your filling expertise. Training will be directly from GST Govt Portal with latest updates.
Learning this course online with MSME (Govt of India) Certificate at this Govt subsidized Fee of Rs.4720/- including GST per candidate, assures multiple career opportunities, Career Progression and Management
The course is delivered by leading GST Govt Certified Practitioner Professionals through live video lectures that covers Overview and Model of GST Law (CGST & SGST), GST Business Process-Registration & returns, Accounts & Records, Time of Supply & Valuation of Supply of Goods & Services, Overview of IGST Act, Transitional Provisions, Appeals and Revision, etc.
Why do we study GST?
The framework of GST provides for a seamless flow of credit which would greatly alleviate the cascading effect of taxes, thereby contributing to the growth prospects of the economy. Goods and service tax is actually an indirect tax reform which ultimately aims to remove the taxation barriers between states.
Benefits of GST
** GST eliminates the cascading effect of tax. …
** Higher threshold for registration. …
** Composition scheme for small businesses. …
** Simple and easy online procedure. …
** The number of compliances is lesser. …
** Defined treatment for E-commerce operators. …
** Improved efficiency of logistics. …
** Unorganized sector is regulated under GST.
How To Apply?
Registered candidates should fill in MSME Application form and with passport photo, Aadhar card copy by email to msmetdcchennai1@gmail.com or Whatsapp to 9790922344
Payment can be made directly to MSME online to www.cftichennai.in or do NEFT to MSME Account Details:

Name: DIRECTOR CFTI,
Account No: 10299691069,
IFSC Code: SBIN0000956,
You may pay through Gpay no.9790922344.
Let me know your interest to join or refer to your colleagues and friends to get benefited the most.
Training Schedule
Date : 17th, 18th, 24th & 25th April 2021
Time : 9.30 am To 1.30 pm
Contact
For Registration contact, MSME Training Coordinator 9677290237.
About CFTI Chennai:
The Central Footwear Training Institute (formerly CFTC), Chennai The Premier Institute of its kind in the country, came into being in July, 1957, with the assistance of Ford Foundation. The erstwhile CFTC was conducting 18 months "Advanced Footwear Technology Course" and Practical oriented need based short – term courses.