Globosoft Solutions Cochin Business Development Executive
Organisation : Globosoft Solutions Pvt Ltd
Designation : Business Development Executive
Qualification : Bachelor's degree
Job Location : Cochin
Website : https://globosoft.in/careers.php
Want to comment on this post?

Go to bottom of this page.
Job Openings in Globosoft Solutions
1. Business Development Executive
Job Description:
**Experienced and resourceful Business Development Executive is needed to develop and implement growth opportunities in existing and new markets.
**We're searching for professionals that have a solid track record of creating long-term value for organizations.

**First and foremost, we're looking for a leader who understands how to leverage real data and capitalize on business trends and opportunities.
**Candidates should have strong communication and leadership skills, as well as the ability to manage a diverse team in an evolving industry landscape.
**Successful applicants should also be willing to travel.
Business Development Executive qualifications & skills:
** Bachelor's degree is required.
** Ability to develop good relationships with current and potential clients.
** Excellent leadership and communication skills.
** Experience in project management and/or sales.
** Knowledge of productivity tools and software.
** High attention to detail and a focus on fact-based decision making.
Business Development Executive responsibilities & duties:
** Oversee the sales process to attract new clients
** Work with senior team members to identify and manage risks.
** Maintain fruitful relationships with clients and address their needs effectively.
** Research and identify new market opportunities.
** Prepare and deliver pitches to potential investors.
** Foster a collaborative environment within the organization.
** Arranging business development meetings with prospective clients
2. Asst – Manager Operations & Client Relationship (Female)
Job Description:
**We are looking for a Client Relations Manager to create and nurture long-term relationships with customers.
**You will resolve any issues that arise to ensure customers are satisfied with our services.
**In this role, you should be an excellent communicator who's able to grasp customer needs and brainstorm ways to fulfill them.
**If you also have a background in customer service and knowledge of our industry, we'd like to meet you.
**Your goal will be to help us safeguard our revenue and retain our customers.
Requirements:
**Proven experience as a Client Relations Manager or Relationship Manager
**Proven track record of meeting and exceeding targets.
**Background in customer service; industry knowledge is a plus.
**Experience tracking relevant KPIs.
**Proficient in MS Office, with working knowledge of CRM platforms.
**A customer-oriented attitude
**Excellent communication and negotiation skills
**Problem-solving aptitude
**Ability to work well with a team
**BSc/BA in Business Administration, Marketing or a related field
Responsibilities:
**Build relationships with key employees among customers
**Create plans to address clients' business needs.
**Advise clients on creating profitable processes.
**Schedule regular meetings with customers to ensure they are satisfied.
**Act as point of contact for complaints and escalate issues as appropriate.
**Help sales team up-sell or cross-sell services and products
**Ensure both the company and clients adhere to contract terms
**Study competition to find new ways to retain customers
**Set sales and revenue targets and work diligently to meet them
**Collaborate with internal teams (e.g. sales, engineers, senior management) to address customers' needs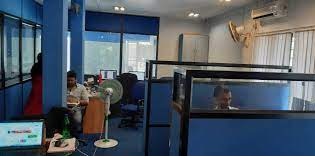 How To Apply For Jobs At Globosoft Solutions?
To Apply For Jobs At Globosoft Solutions, Follow the below steps
Step 1: Go to the above link
Step 2: Enter your Name
Step 3: Enter your Mobile Number
Step 4: Enter your Mail ID
Step 5: Upload your Resume
Step 6: Click on Submit Button